September 3 2022
After one of the longest gaps and the entire month of August with no named storms, the tropical Atlantic has picked up activity with a second storm this week.  Tropical Storm Danielle already formed and is flirting with hurricane intensity. Now we add Tropical Storm to the mix, with a little more impact on land.
Since Danielle is in the open water of the North Atlantic, the focus will be on Earl in this report.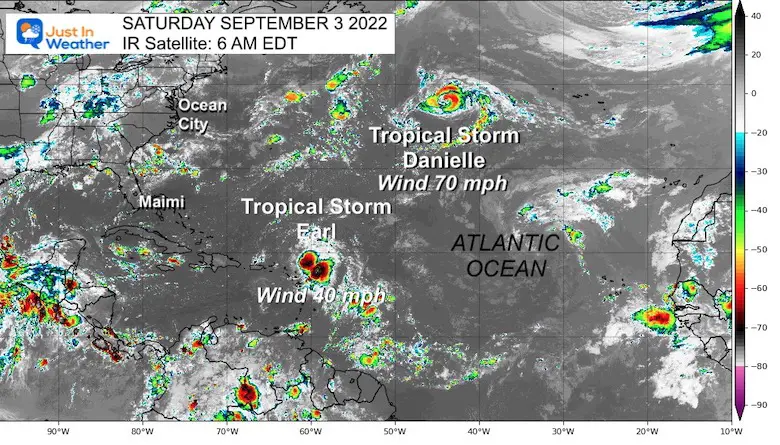 Tropical Storm Earl
IR Satellite Close Up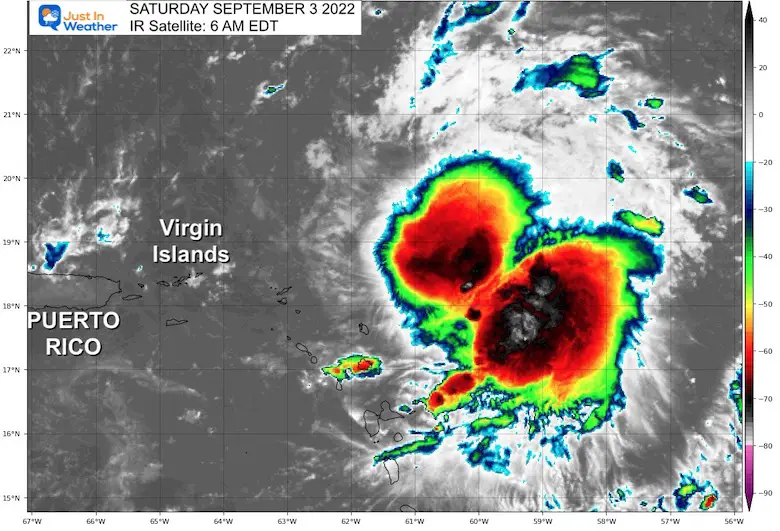 National Hurricane Center
Saturday Morning Update
SUMMARY OF 500 AM AST…0900 UTC…INFORMATION
———————————————-
LOCATION…18.7N 61.4W
ABOUT 115 MI…190 KM ENE OF THE NORTHERN LEEWARD ISLANDS
MAXIMUM SUSTAINED WINDS…40 MPH…65 KM/H
PRESENT MOVEMENT…WNW OR 285 DEGREES AT 13 MPH…20 KM/H
MINIMUM CENTRAL PRESSURE…1005 MB…29.68 INCHES
Forecast Intensity
This is likely to remain a Tropical Storm for a few days, but beyond Day 4 and 5 this may intensify to a hurricane. By that point this will be well north of the islands in the open central Atlantic.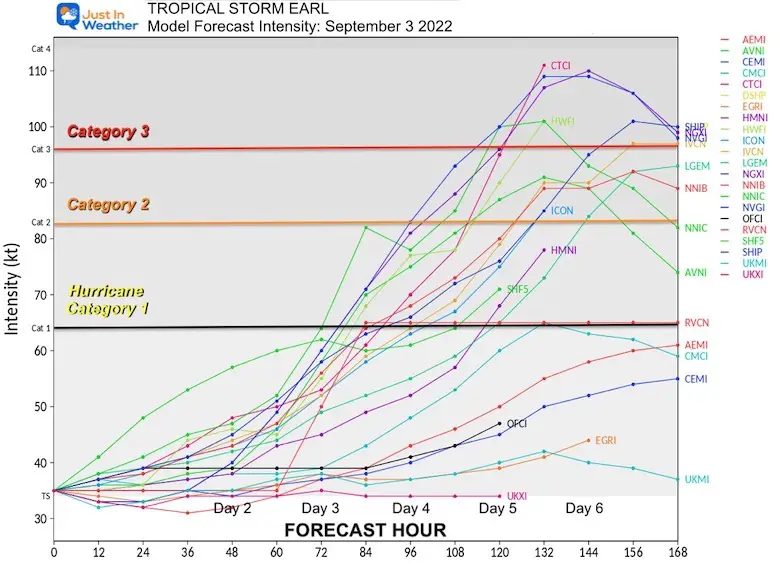 TS Earl Forecast Tracks
Close View
This is expected to pass NORTH of Puerto Rico, but waves will be felt on the north side including the Virgin Islands as well.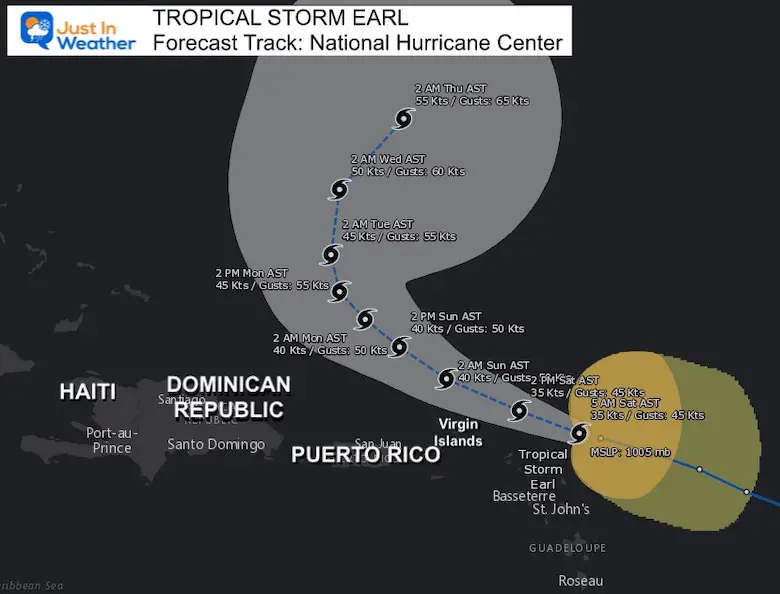 Wider View
Besides the Virgin Islands and Puerto Rico, this is no threat to the mainland US.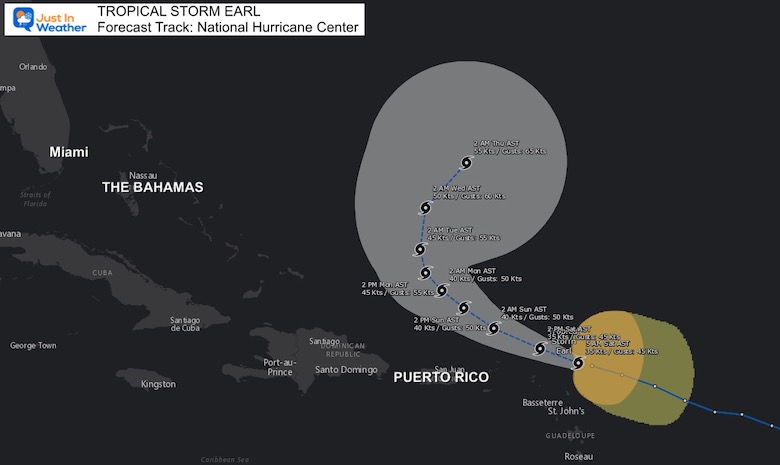 Forecast Wind and Radar Widget
Centered on San Juan, Puerto Rico.
Use controls to toggle and with locations
Atlantic View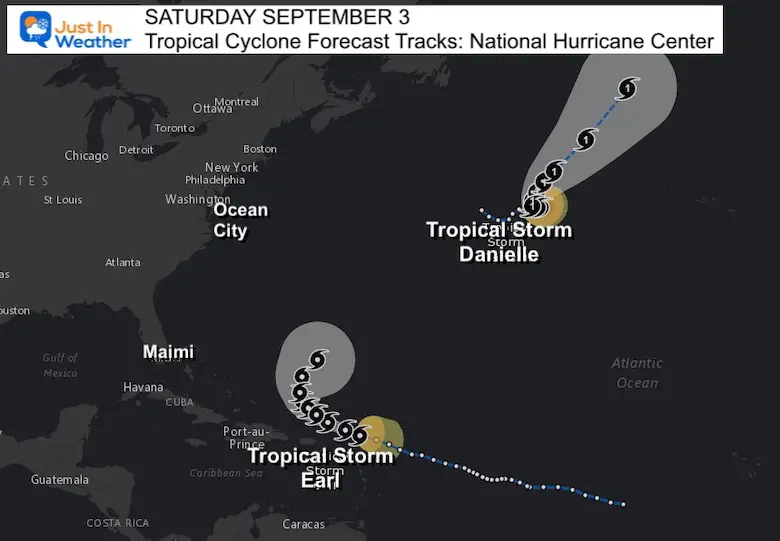 REMINDER
Comparing Record Years:
Augusts With No Named Tropical Storms
The other two years BOTH had a named storms within the first few days of September. 
Both of them reached Major Hurricane Intensity (Category 3 or higher)
1961- Tropical Season
Prior To August:  This year started very quiet and only had 1 named storm (Anna). 
From September on:
September 2 was the next name and it got busy in a hurry! The second named storm was Betsy – This reached Category 4, but remained in the open ocean not making landfall. 
1997- Tropical Season
Prior to August: This was a busier year with 4 Named Storms, one subtropical storm and one tropical depression. 
From September on:
September 3 was another quick return when Erika was named. This also became a Major Hurricane, reaching Category 3.
EXPLORE MORE
See how the rest of the season compared to the following winter snowfall. There was a distinct difference 
Record August For No Named Tropical Storms: Closer Look At Snow Following
STEM Assemblies/In School Fields Trips Are Back
Click to see more and 'Book' a visit to your school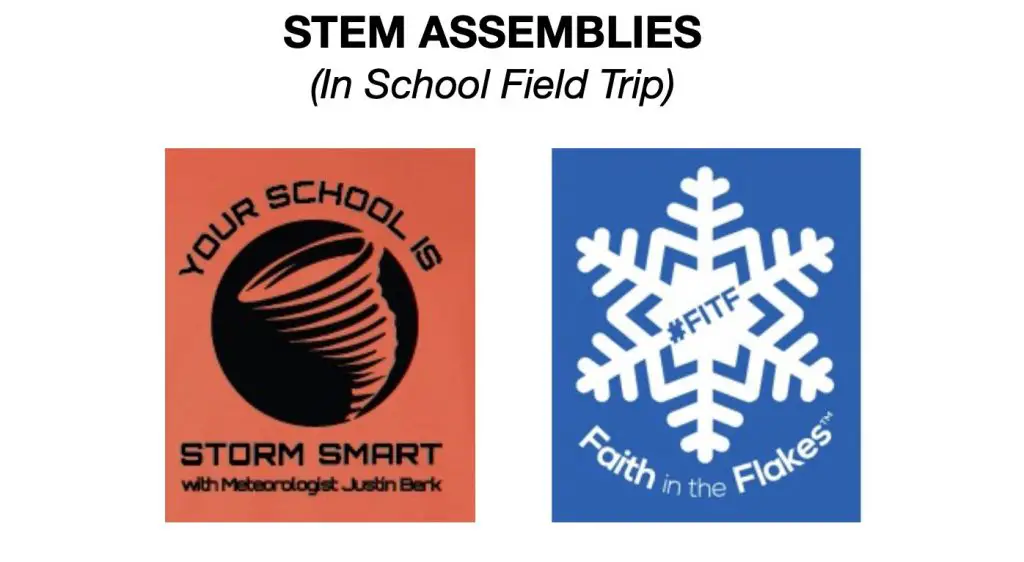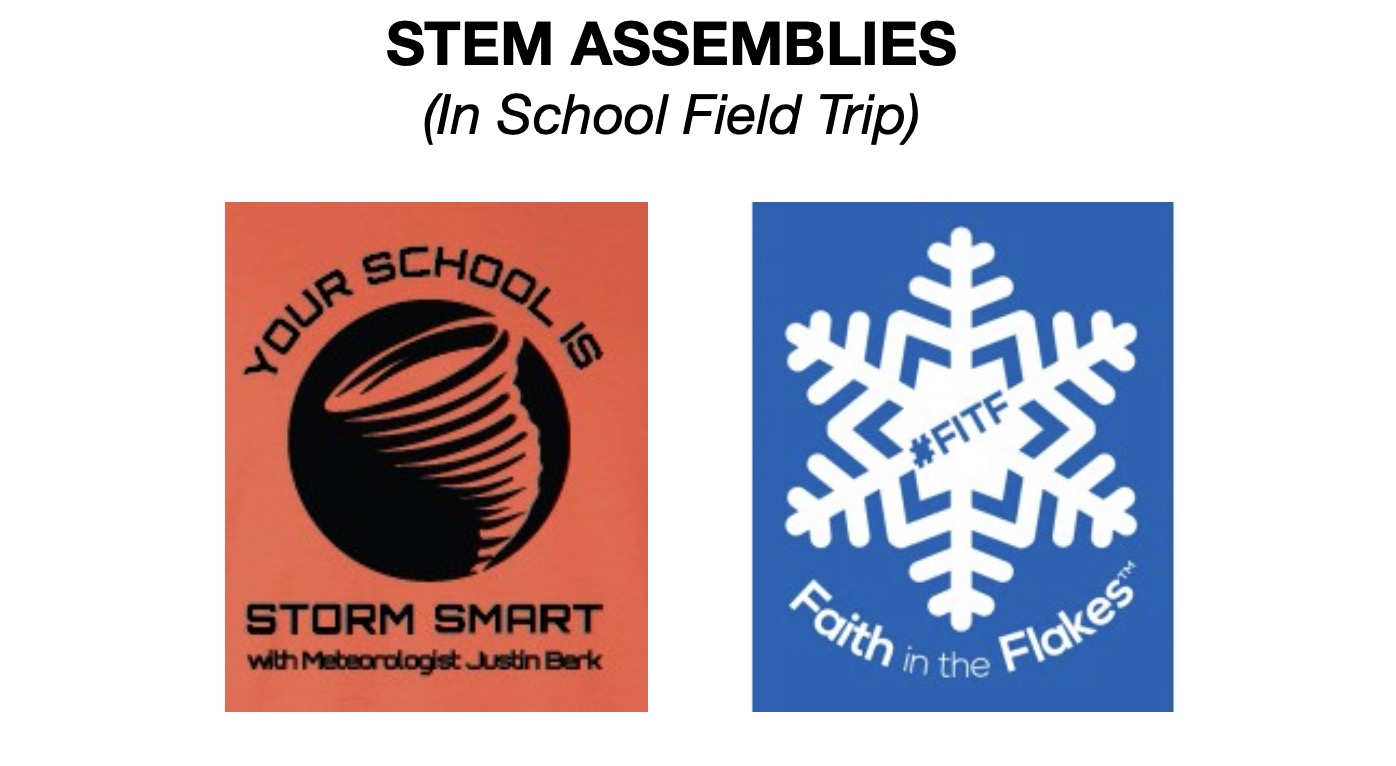 ALSO SEE
September Begins Meteorological Autumn
Climate Data/Weather Stats For The Month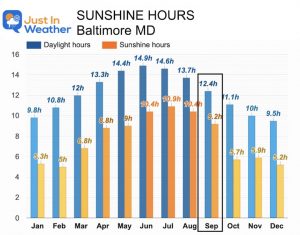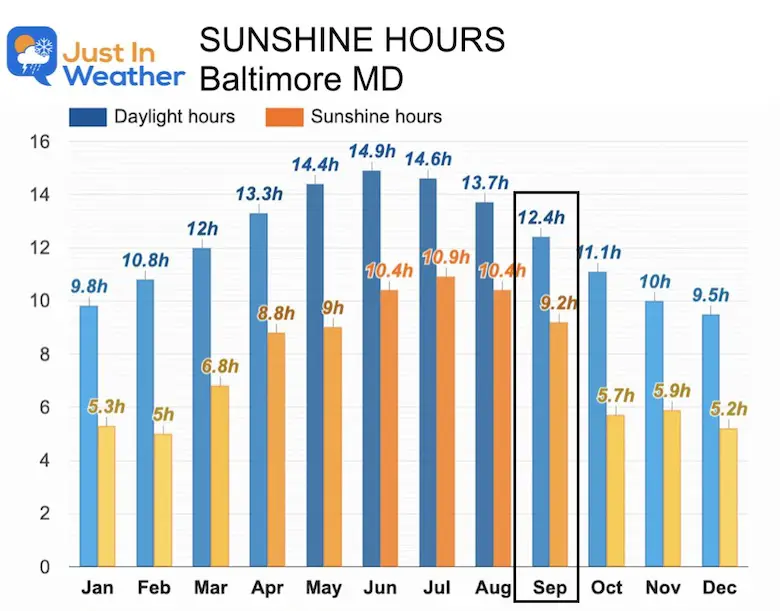 Hurricane Season Forecast: June 1 Through November 30
NOAA 2022 Hurricane Forecast- Above Normal Again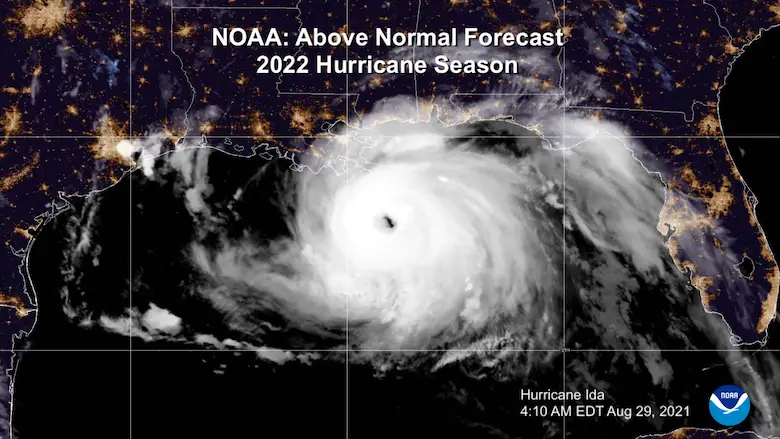 Forecast From Colorado State University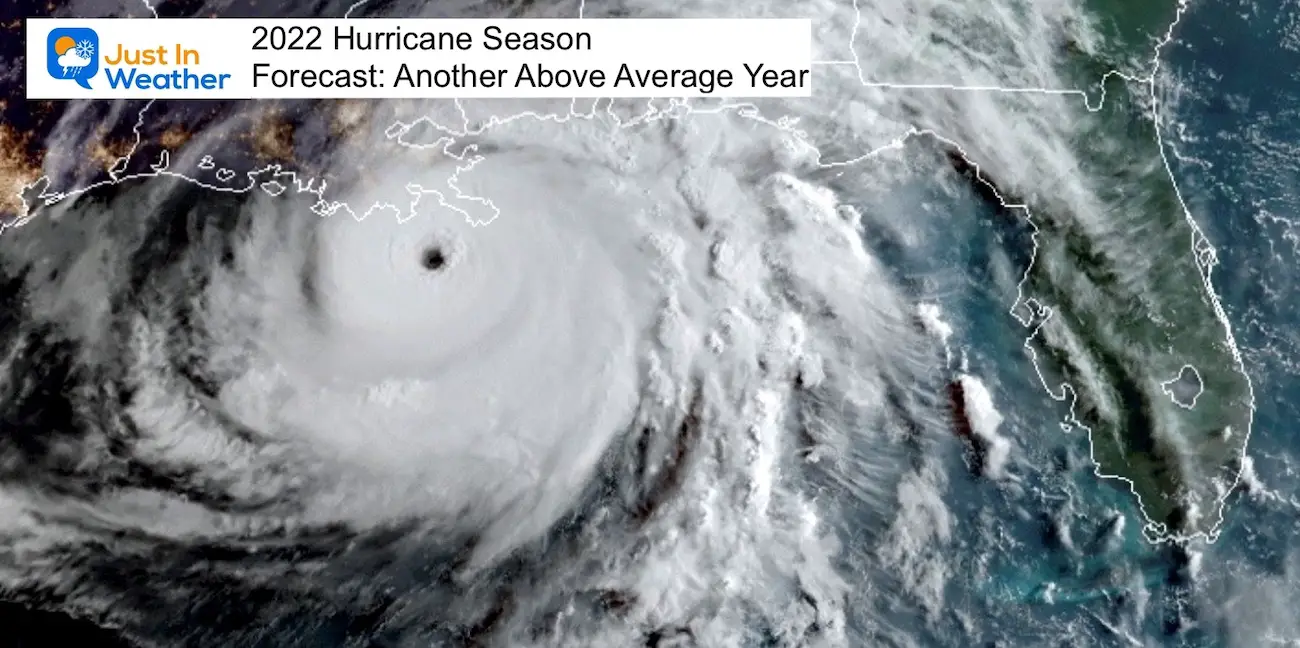 Related Posts
NOAA Study: Reducing Air Pollution INCREASED Tropical Storms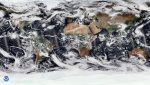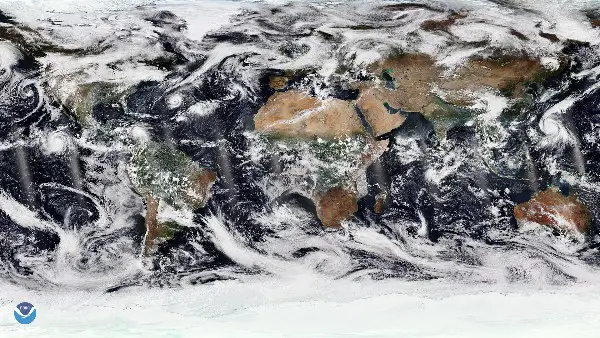 Atlantic Tropical History: Maps of Origin Regions Every 10 Days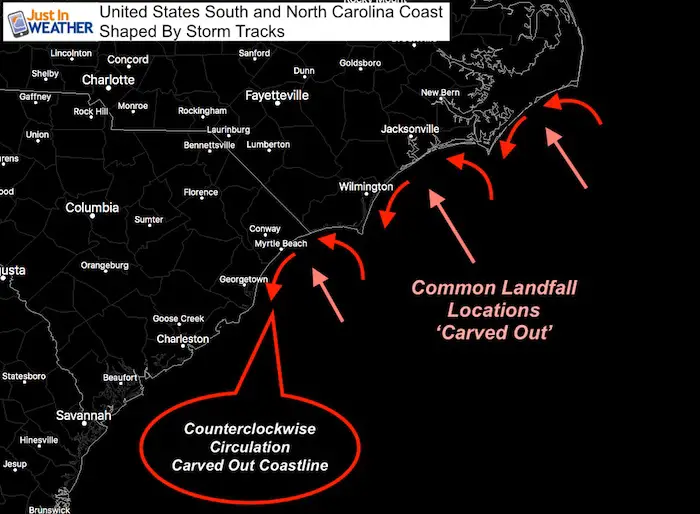 Rainbow Ice Cave In Mt Rainier
Rainbow Ice Cave In Mt. Rainier A Very Rare Find: Photos And Video
Please share your thoughts, best weather pics/videos, or just keep in touch via social media