Following hurricanes Danielle and Earl last week, a new tropical depression formed Wednesday in the Atlantic and will strengthen as it moves toward the northeastern Caribbean islands and Puerto Rico late this week and into the weekend.
Tropical Depression Seven is centered about 800 miles east of the northeastern Caribbean islands and is producing a large area of showers and thunderstorms over the central tropical Atlantic.
ATLANTIC HURRICANE SEASON REACHES CLIMATOLOGICAL PEAK SEPT. 10
The current status of Tropical Depression Seven.
(FOX Weather)
---
According to the FOX Forecast Center, the tropical depression is expected to generally move westward over the next few days.
On this path, Tropical Depression Seven will move through the northeastern Caribbean islands on Friday, then track near the U.S. Virgin Islands and Puerto Rico this weekend.
Some gradual strengthening is likely over the next day or so, and the tropical depression is forecast to become a tropical storm Wednesday night or Thursday. Once its maximum sustained winds reach 40 mph, the system will earn the name "Fiona."
HOW TO WATCH FOX WEATHER ON TV
The projected path and intensity of Tropical Depression Seven.
(FOX Weather)
---
Recent rainfall has saturated the soils in Puerto Rico, so any additional heavy rain from Tropical Depression Seven or Tropical Storm Fiona this weekend could lead to flooding in urban areas and small streams, as well as trigger mudslides in the archipelago's mountainous terrain.
"The rain is an issue – probably the biggest issue right now so far – because of its mountainous terrain, and the land is very, very saturated in Puerto Rico," FOX Weather meteorologist John Marshall said. "They've had previous rainfalls from the other systems that worked through there."
WHERE TROPICAL STORMS AND HURRICANES TYPICALLY OCCUR DURING EACH MONTH OF ATLANTIC HURRICANE SEASON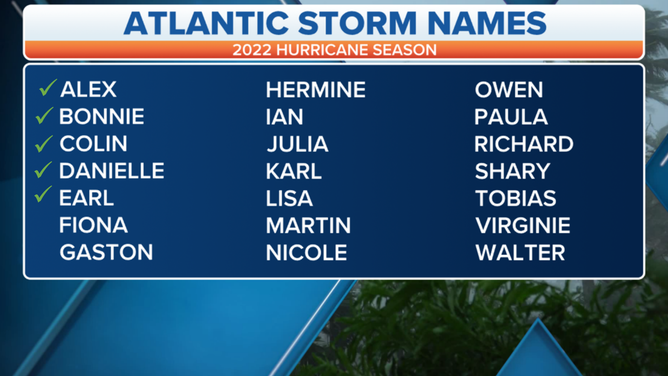 The National Hurricane Center noted that Tropical Storm Watches might be required for portions of the northeastern Caribbean islands later Wednesday.
2022 Atlantic hurricane season off to a slow start
Early to mid-September is the time of the season when sea-surface temperatures are the warmest, upper-level winds relax and drier air is typically not widespread.
Unlike recent active years, dry air has been more dominant than usual across the eastern parts of the Atlantic Basin, which has stunted the organization and development of tropical cyclones.
August ended without seeing a single tropical cyclone in the Atlantic Basin for only the second time in the satellite era.
HURRICANE SEASON 2022: AUGUST FINISHES WITHOUT ANY NAMED STORMS FOR FIRST TIME IN DECADES
During an average year, eight named storms and three hurricanes have typically already formed by now, but so far in 2022, the tally stands at just five named storms and two hurricanes.
While the Atlantic hurricane season officially runs from June 1 to Nov. 30, Sept. 10 is the date when the most hurricanes and tropical storms have occurred in the historical records.
(FOX Weather)
---