Saturday September 17
Morning Update
Tropical Storm Fiona has been a challenge for the few days since its inception. First it outperformed models and developed rapidly. Then on Thursday we watched the circulation separate from the deep convection and the naked circulation was exposed.  On Friday the storm shifted south of the forecast track, which allowed the upper level convection to catch up, wrap around, and reorganize. 
Today we have a new perspective: Tropical Storm Fiona is expected to become a hurricane and the path may cross over or just west of Puerto Rico.  This would place the strongest winds and rain over Puerto Rico on Sunday. Over 10 inches of rain may fall there. See below. 
Satellite Loop Saturday Morning
(The web set has been having issues with some GIFs, so I have this loop embedded from Twitter first, then the attempt to place the loop below.)
See Live Radar below.
Loop:
If this does not animate, see my Tweet embedded below: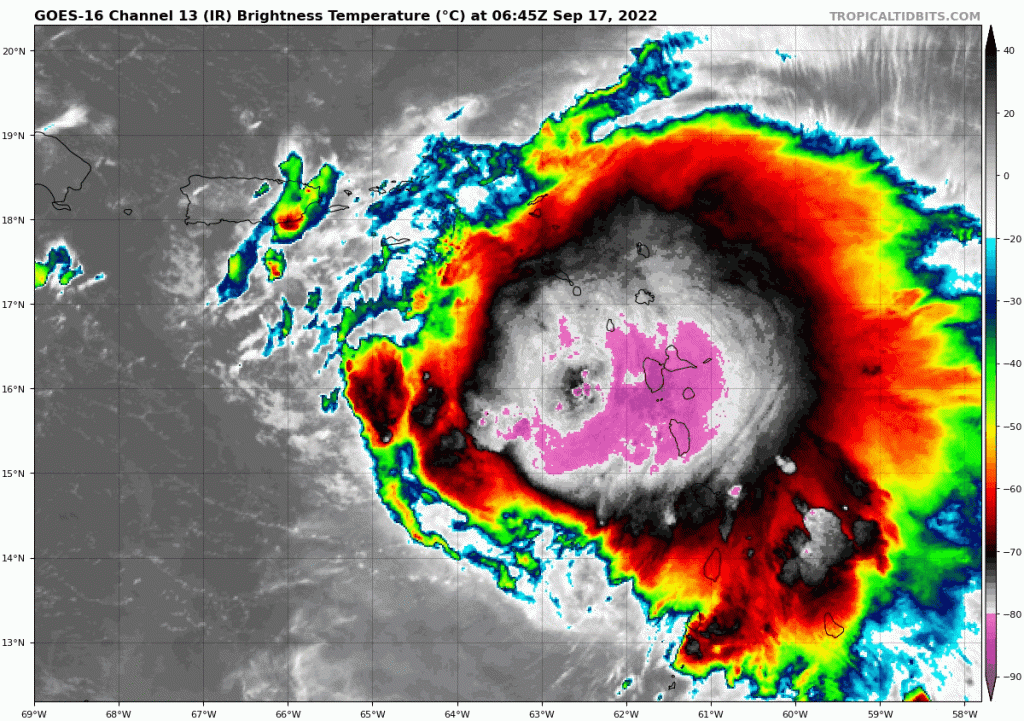 Another Look
Tropical Storm Fiona Satellite Saturday Morning: This storm is reorganizing and now expected to become a Category 1 Hurricane. Forecast to hit or pass just west of Puerto Rico on Sunday pic.twitter.com/PsmOpIrta4

— Justin Berk (@JustinWeather) September 17, 2022
Snapshot
This demonstrates the problem the Atlantic has had generating storms all season. There is a lot of wind sheer. Stronger upper level winds are blowing from the west, cutting the top off of the storm, exposing the center, and limiting further intensification.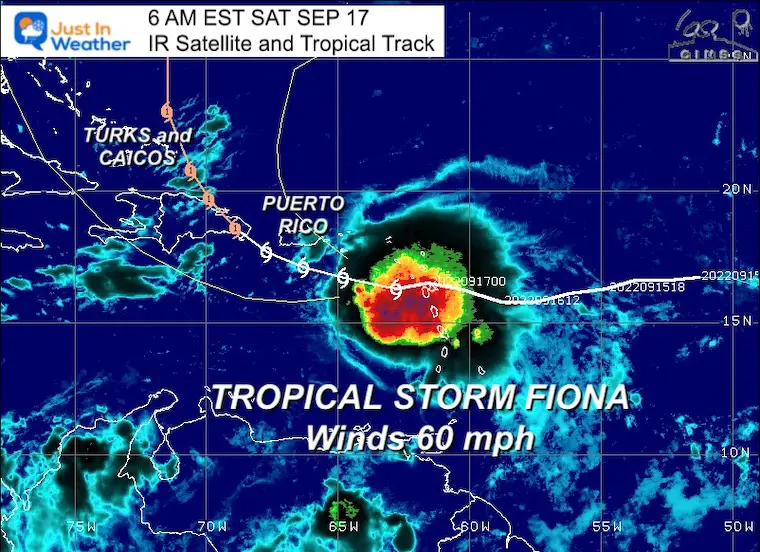 Saturday Morning Set Up
Tropical Storm Fiona 
Winds are 60 mph
Moving to the West at 13 mph
Tropical Storm Force Winds Extend 125 miles from the center.
A wind gust of 45 mph (72 km/h) was recently reported at F.D. Roosevelt Airport on Sint Eustatius.
National Hurricane Center Update
SUMMARY OF 500 AM AST…0900 UTC…INFORMATION
———————————————-
LOCATION…16.4N 63.3W
ABOUT 125 MI…205 KM W OF GUADELOUPE
ABOUT 135 MI…215 KM SE OF ST. CROIX
MAXIMUM SUSTAINED WINDS…60 MPH…95 KM/H
PRESENT MOVEMENT…W OR 275 DEGREES AT 13 MPH…20 KM/H
MINIMUM CENTRAL PRESSURE…1000 MB…29.53 INCHES
From NOAA/National Hurricane Center
SUMMARY OF WATCHES AND WARNINGS IN EFFECT:
A Hurricane Watch is in effect for…
* Puerto Rico, including Vieques and Culebra
A Tropical Storm Warning is in effect for…
* St. Kitts, Nevis, Montserrat, and Anguilla
* Saba and St. Eustatius
* St. Maarten
* Guadeloupe, St. Barthelemy, and St. Martin
* Puerto Rico, including Vieques and Culebra
* U.S. Virgin Islands
* British Virgin Islands
* South coast of the Dominican Republic from Cabo Engano westward
to Cabo Caucedo
* North coast of the Dominican Republic from Cabo Engano westward to
Puerto Plata
A Tropical Storm Watch is in effect for…
* South coast of the Dominican Republic from Cabo Caucedo westward
to Barahona
STORM SURGE:
The combination of storm surge and the tide will cause normally dry areas near the coast to be flooded by rising waters moving inland from the shoreline. The water could reach the following heights above ground somewhere in the indicated areas in areas of onshore winds if the peak surge occurs at the time of high tide…
Southern coast of Puerto Rico…1 to 3 ft
Forecast Intensity
There is NOW a lot more support for this to reach at least become a Category 1 Hurricane.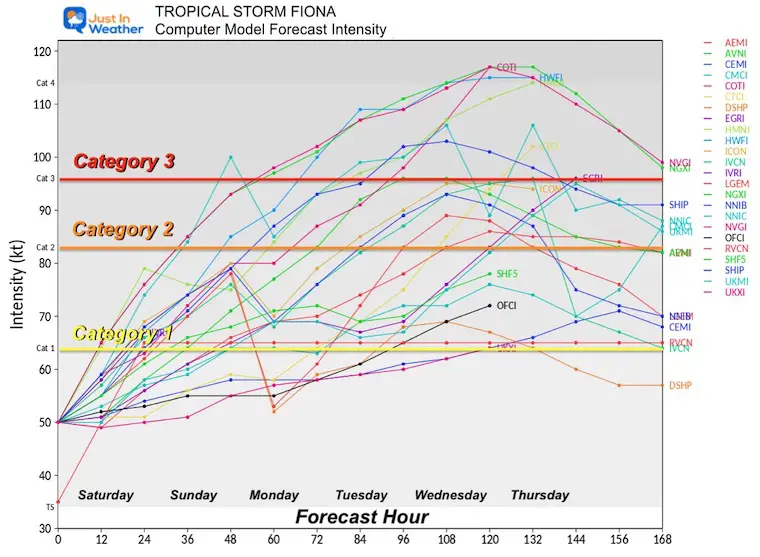 Wind Forecast: HWRF Model

Radar Simulation: HWRF Model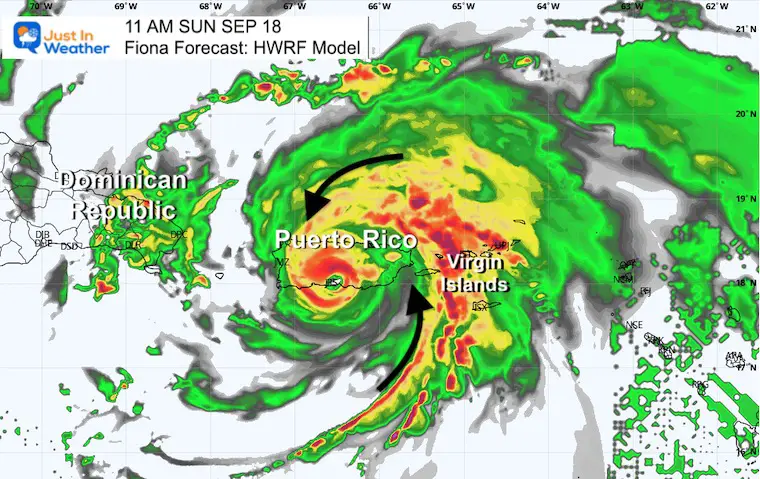 INTERACTIVE WIND FORECAST: NHC Forecast
Tropical Forecast Track/Cone
NOAA/National Hurricane Center
Puerto Rico should get the worst of this storm on Sunday.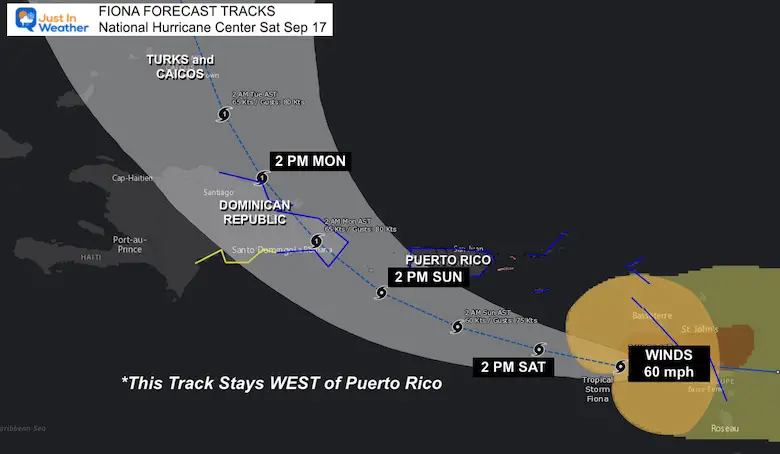 WEATHER WIDGET LIVE RADAR

RAINFALL:  Fiona is forecast to produce the following rainfall:
Leeward Islands and Northern Windward Islands: Additional 2 to 4
inches.
British and U.S. Virgin Islands: 4 to 6 inches with local 10 inches
possible.
Puerto Rico: 5 to 10 inches with local 16 inches possible,
particularly across eastern and southern Puerto Rico.
Dominican Republic: 4 to 8 inches with 12 inches possible,
particularly on the far eastern coast.
Haiti: 1 to 3 inches with isolated maximum totals of 4 inches.
Turks and Caicos: 4 to 10 inches.
Wide View
Most ensembles show this curving through the Bahamas then east of the US coast.  I say most, because there are some outliers and we must consider that so far this has not been handled well with computer models… and verifying to the LEFT of the expectations.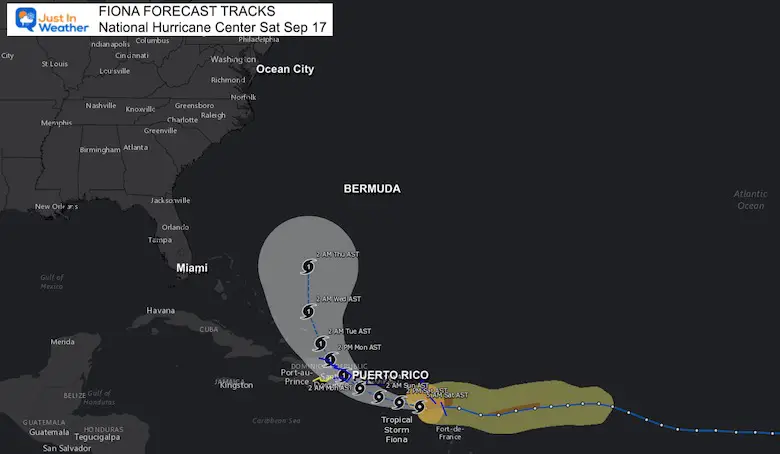 Watch the European Model Plots
Euro ensembles show a few outliers threatening the U.S., but most do not. pic.twitter.com/uyYDoFp0lw

— Tom Tasselmyer (@ttasselWBAL) September 16, 2022
Weather posts straight to your inbox
Sign up and be the first to know!
EXPLORE MORE
Atlantic Tropical History: Maps of Origin Regions Every 10 Days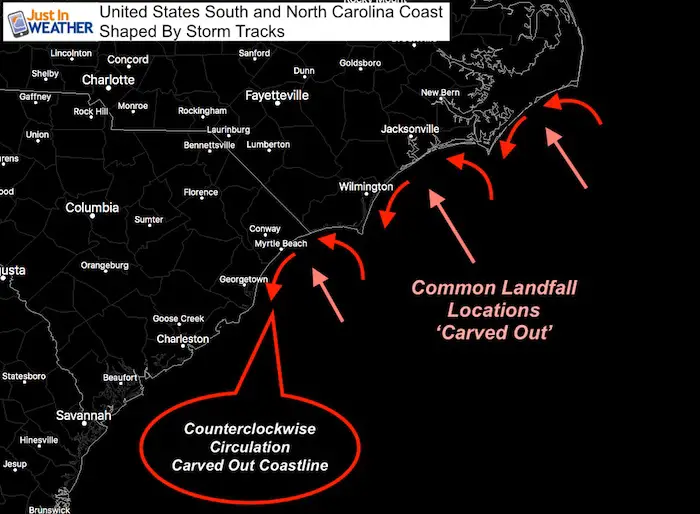 NOAA Study: Reducing Air Pollution INCREASED Tropical Storms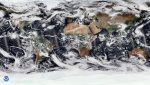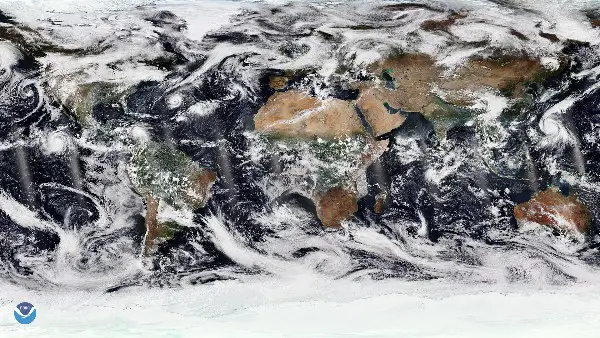 COMPARE TO THE
 

PAST

If you want a snowy winter, this is what you might want to look for in the rest of the tropical season.
Record August For No Named Tropical Storms: Closer Look At Snow Following
Hurricane Season Forecast: June 1 Through November 30
NOAA 2022 Hurricane Forecast- Above Normal Again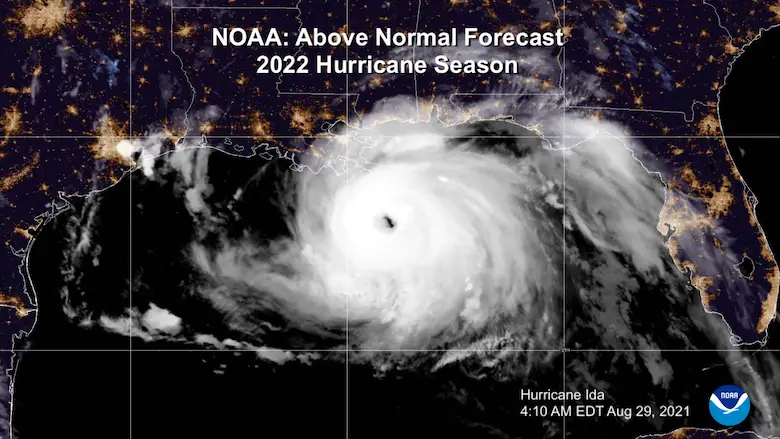 Forecast From Colorado State University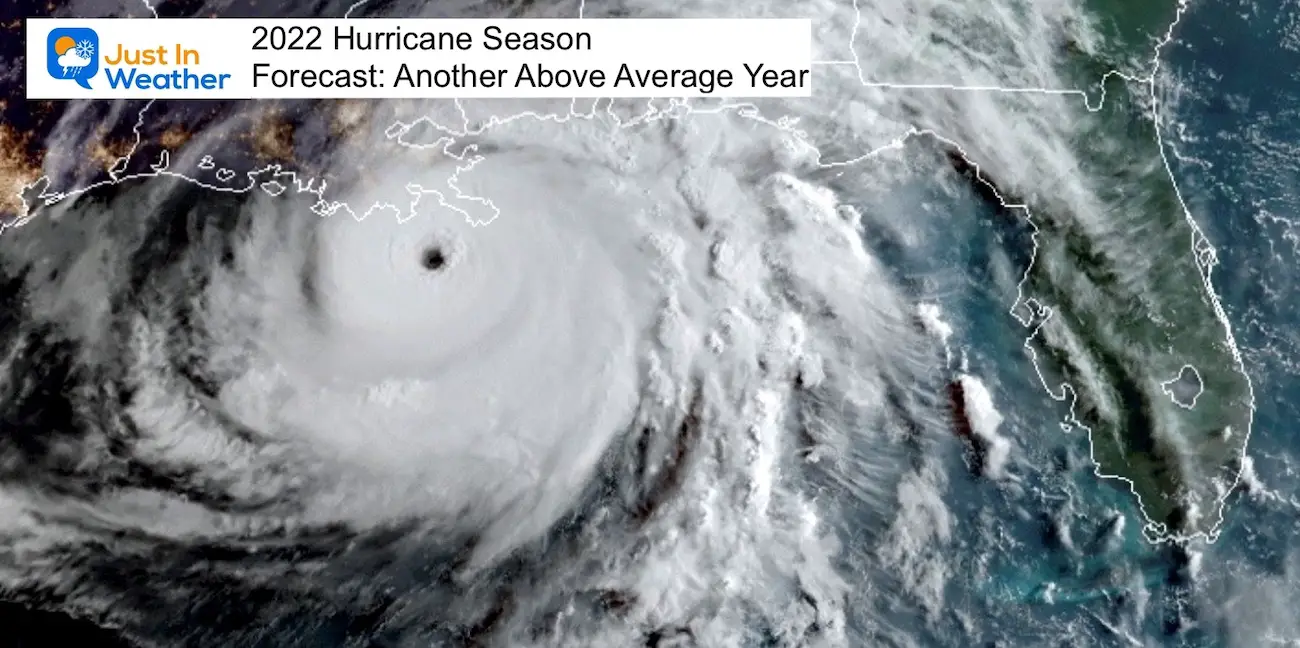 Please share your thoughts, best weather pics/videos, or just keep in touch via social media
STEM Assemblies/In School Fields Trips Are Back
Click to see more and 'Book' a visit to your school