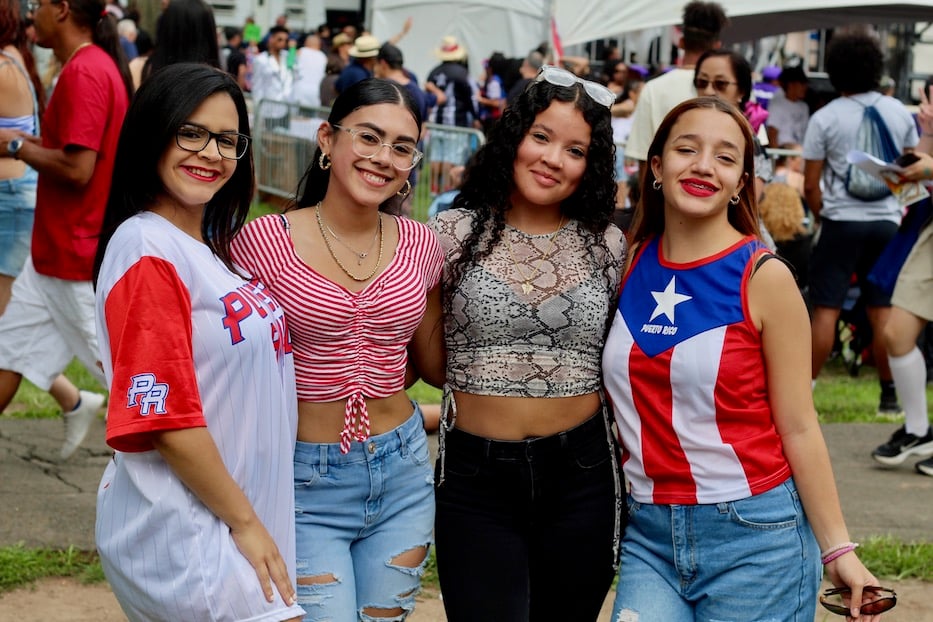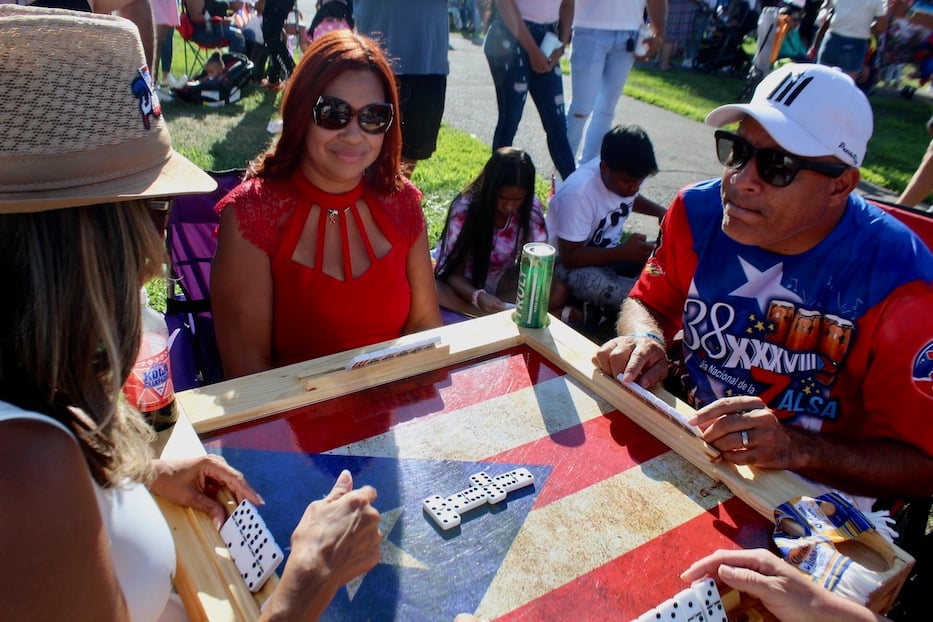 Top: Daleishka Flores, Destiny Lugo, Yeraliz Figueroa and Mia Santos. Bottom: A high-stakes game of dominoes among Johanna Torres, Sylvia Rivera, Armando Sanchez, and Priscilla Montavo. Lucy Gellman Photos. 
It was the keys and percussion that got the New Haven Green moving for the fifteenth time in a single afternoon. As the sound electrified the air, bodies rose across the grass and feet pounded the walkways in time with the music. Just yards away from the stage, Jose Figueroa lifted a pair of black maracas and began to play along. Beside him, a friend struck up the cowbell. 
By the time Michelle Brava lifted the mic to her mouth and began to sing "Un Beso," hundreds of people were already dancing. The music, from footfalls to drum sets nestled in the grass, was everywhere. 
Amidst cries of "Viva Puerto Rico!" and "Yo Soy Boricua, Pa'que tu lo sepas!" Saturday afternoon, the New Haven Green vibrated with music, dance, and a sea of blue, white, and red as the city's Puerto Rican Festival returned to its downtown home for the first time since 2019. Over eight sun-soaked hours, over 10,000 people came out to celebrate, dance,  and eat their way through the festival.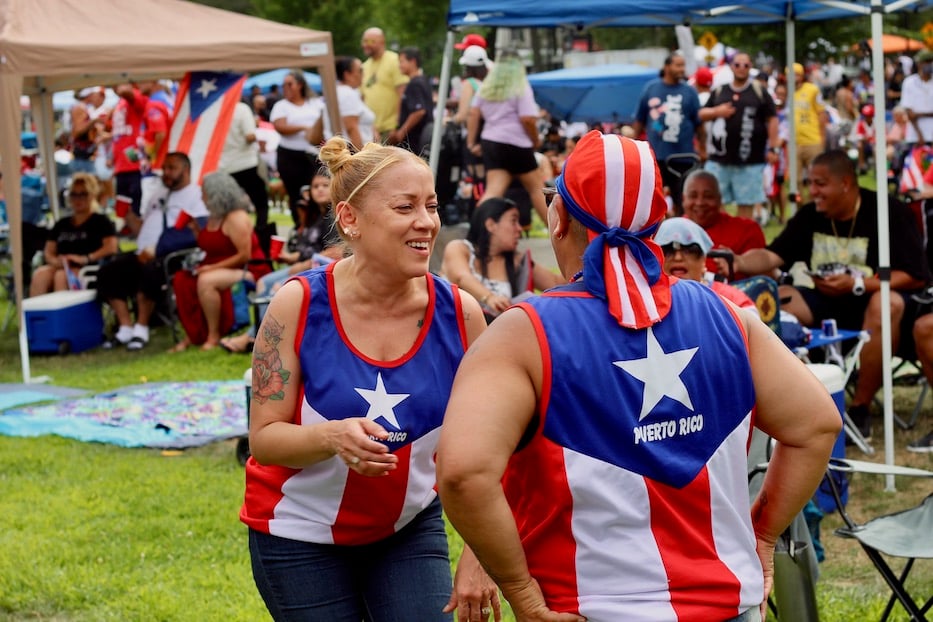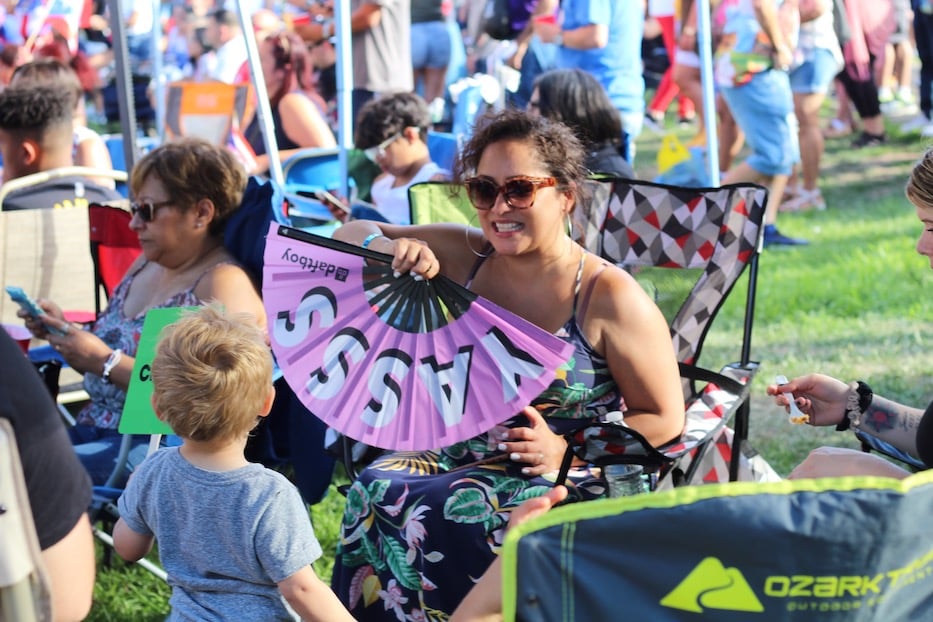 Top: Elvira Santana and Celia Alvarado. Bottom: Keeping cool as the temperature rose. 
The event, which this year honored "la Mujer Puertorriqueña" or the Puerto Rican woman, was organized by the all-volunteer board of Puerto Ricans United, Inc. (PRU) with support from over a dozen sponsors. While the group has continued programming during the pandemic, members throughout the day spoke on how good it was to be back on the Green, where the festival started in 2016. 
Instead of celebrating a town this year, as it has in the past, PRU chose to amplify Puerto Rican women in a three-year period that has disproportionately affected Black and Brown women, particularly mothers. During the festival, a banner from artists David Sepulveda and Amie Ziner stretched vibrantly behind performers, three women at its center. Midway through the afternoon, a parade of women crossed the stage, announcing in a mix of Spanish and English whence on the Island they hailed and their occupations. 
"We were thinking about everything that women dealt with during Covid," said Magaly Cajigas, a member of PRU and development manager at the Community Foundation for Greater New Haven who also sits on the city's Cultural Affairs Commission. "You know, staying at home with their children instead of being able to work, all those sacrifices that have been made."
"It goes to show that people are hungry to come out, to celebrate, to be in community, and just feel so proud of their culture," she added as she looked around at thousands of attendees. "It's not just the Puerto Rican community. We have folks of different Latino countries celebrating with us, Americans, African-Americans, it's such a mix. It's beautiful to look out at the crowd and see people appreciate what we bring to this state and to this country."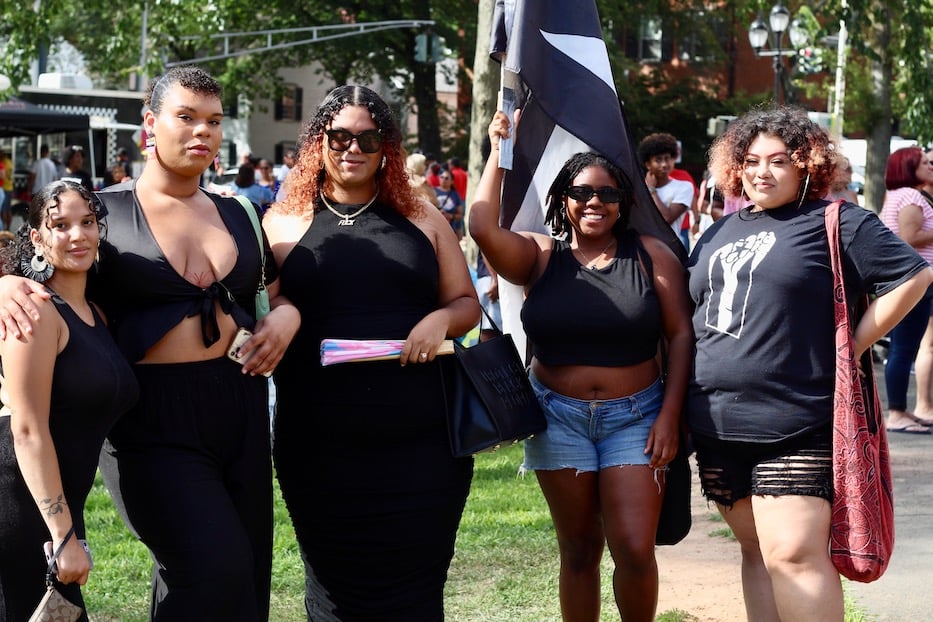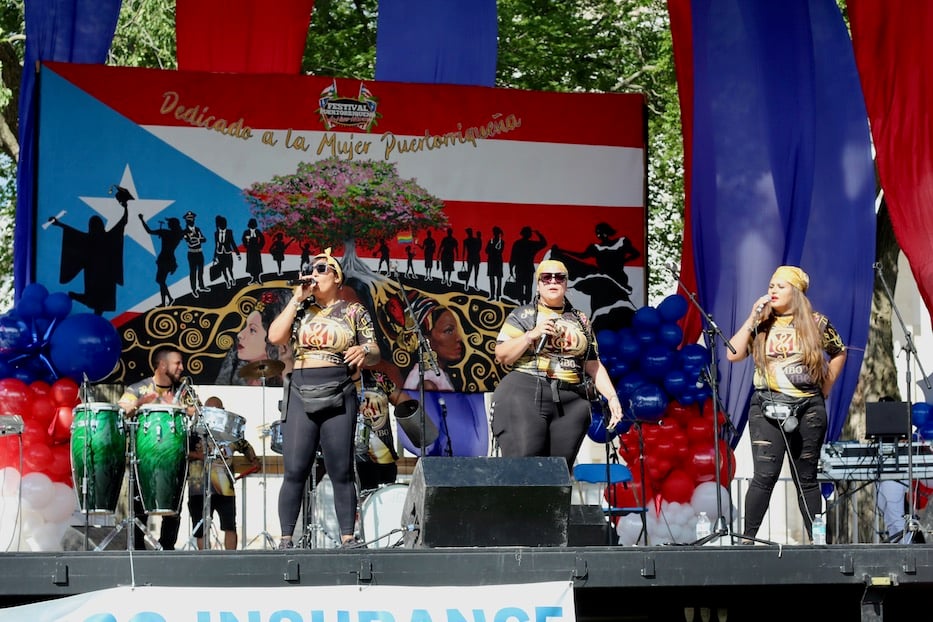 Top: Tatyana Colón, Erycka Ortiz, Jahnice Cajigas, Jamila Washington, and Frenchie Ducos Rivera. Bottom: Members of Las Nenas del Mambo serenaded the crowd around 4 p.m.
From early in the afternoon until sunset, those words echoed across the Green, weaving through domino games and artists' tents, still-hot pernil sandwiches, clouds of rainbow-tinted bubbles and cups of ice cream, cinnamon-flecked arroz con leche, and plates of piping hot tostones. They dipped in and out of eight hours of music that traveled through centuries and genres, from la Bomba y la Plena to salsa, bachata, merengue, and reggaeton.  
Close to the stage, friends and members of Citywide Youth Coalition (CWOS) stood taking in the music of Las Nenas del Mambo, who soaked the space in merengue and bachata rhythms that made it impossible not to move. In a sea of blue, red, and white, organizer Jamila Washington hoisted a now-instantly-recognizable black and white version of the Puerto Rican flag high into the air in a show of resistance. 
The greyscale design, which first appeared in Old San Juan in 2016, is meant to send a message of Puerto Rican independence from the United States. The single image contains multitudes: grief at the United States' financial oversight of Puerto Rico and simultaneous lack of responsiveness in the face of extreme weather events like Hurricane Maria, a desire for independence that has been fermenting for centuries, a show of continued resilience in the face of colonization.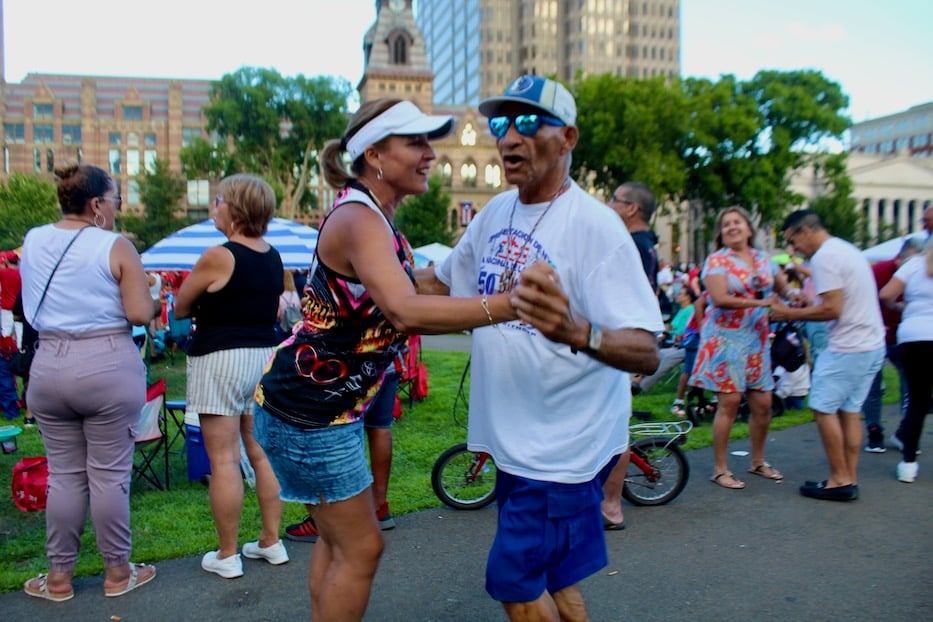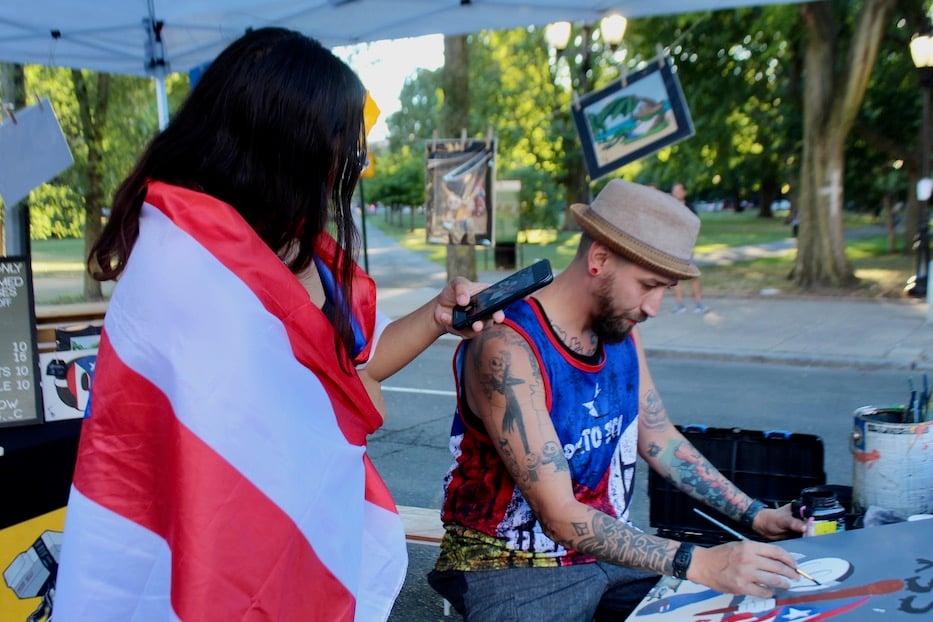 Top: Laureano Clemente, who came with his wife Myrna Colon from the Bronx, steps into salsa. Bottom: Elizabeth Padilla and Carlos Perez. 
It didn't make the event less celebratory, those attendees added. Erycka Ortiz, a field organizer with the ACLU of Connecticut, called it fairly rare to find "real spaces for Boricuas" to gather in celebration, "especially as America continues to capitalize on our resources." As music bloomed around her and the fragrant scents of warm, fresh food wafted over the grass, she was glad to have a space where she could exist with other Puerto Ricans. 
Frenchie Ducos Rivera, a 2021 graduate of Cooperative Arts & Humanities High School and member of Citywide who danced bomba on the Green earlier this summer, agreed that the festival was a chance to be in community "with something bigger than my home and my family." Growing up in New Haven, Rivera was proud of her family, with members who hailed from the Puerto Rican cities of Cataño in the northeast of the island and Mayagüez in the west. 
From the time she could speak, being proudly Puerto Rican meant honoring the Spanish language, Puerto Rican food, and customs like dominoes that her parents kept alive. Or in her words, "We're Puerto Rican, and it's never gonna stop."  
"It's a piece of home away from home," chimed in Jahnice Cajigas. "It's the one time we're able to come together and connect as Puerto Ricans across the diaspora."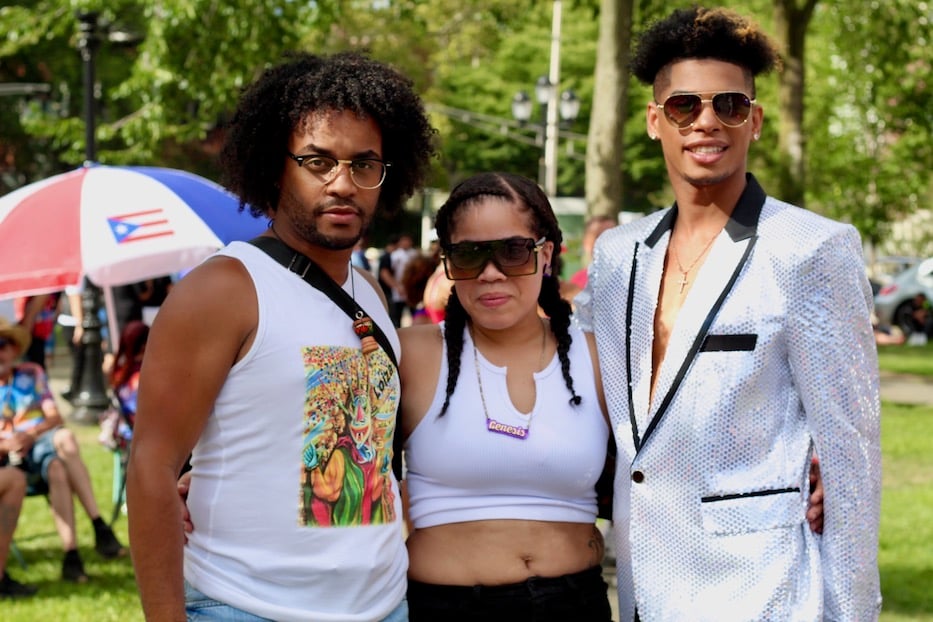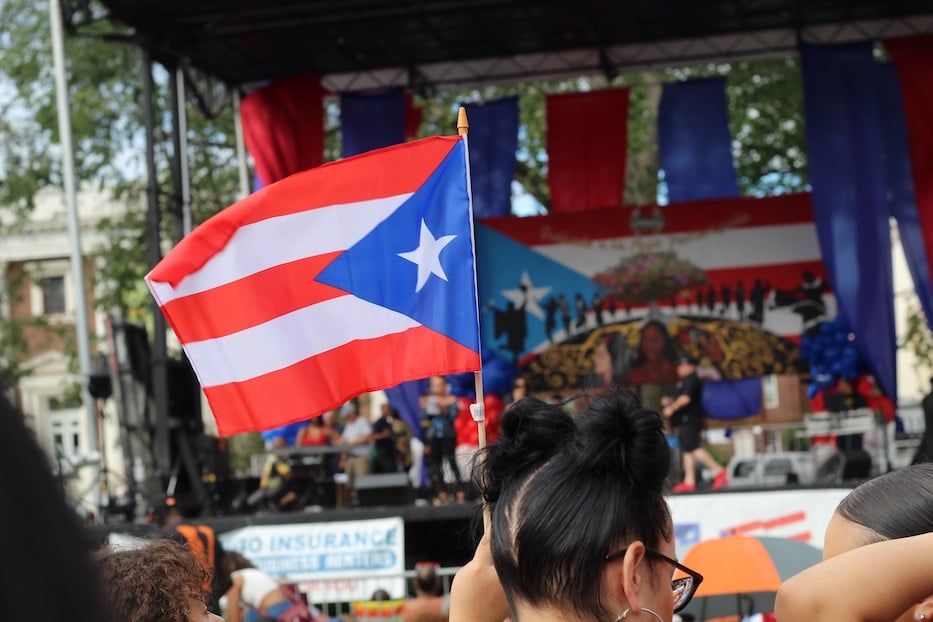 Top: Joel Roman, Genesis Perez, and Angel Cruz. Bottom: Thousands of blue, red and white flags waved throughout the day. 
In a haze of bubbles nearby, friends Joel Roman and Angel Cruz watched as Genesis Perez led a fleet-footed, miniature and totally impromptu salsa lesson with her two-year-old daughter Amy. As Perez danced, a black and red tattoo peeked out on her lower back, repping her hometown of Loíza. As if on cue, Roman revealed that he was wearing a silkscreen of a traditional vejigante mask, one of the art forms for which the port city is known.
Born in Loíza's Melilla neighborhood, Roman came to Connecticut in 1998, when he was on the cusp of young adulthood. In New Haven, he's held onto that identity in his life and work, including when he performs as his drag alter ego, Malaya Love Nations. Saturday, he said he was excited to see a number of friends that he hadn't seen for years.
"It's just a celebration," he said. 
On stage, the last strains of Las Nenas del Mambo hung in the air as applause and cheers took their place. As musicians filed off, close to two dozen women lined up in the wings, all proudly Puerto Rican. Between them there were mothers, daughters, civil servants, firefighters, nurses, legal advocates—and nearly an entire island represented.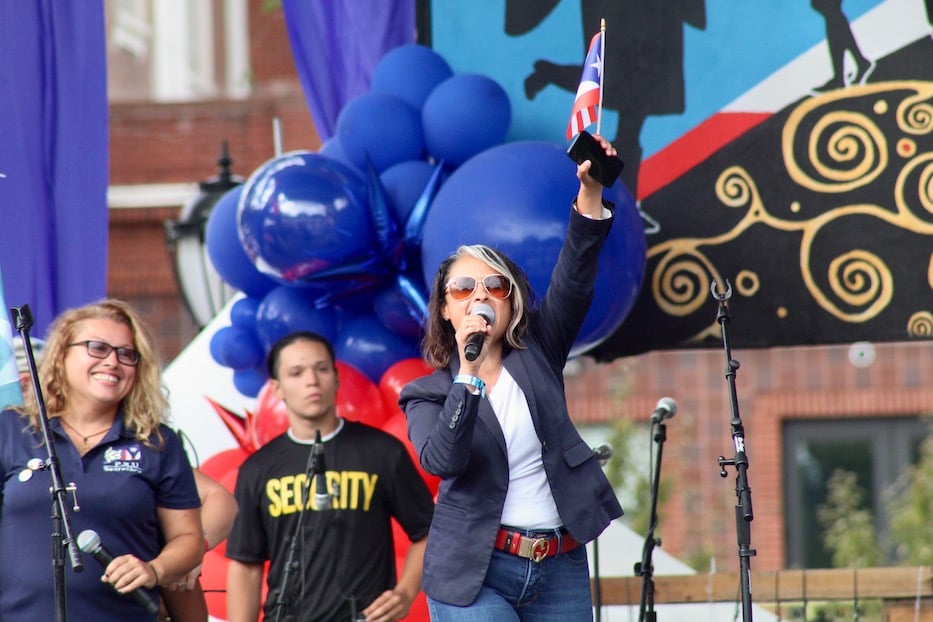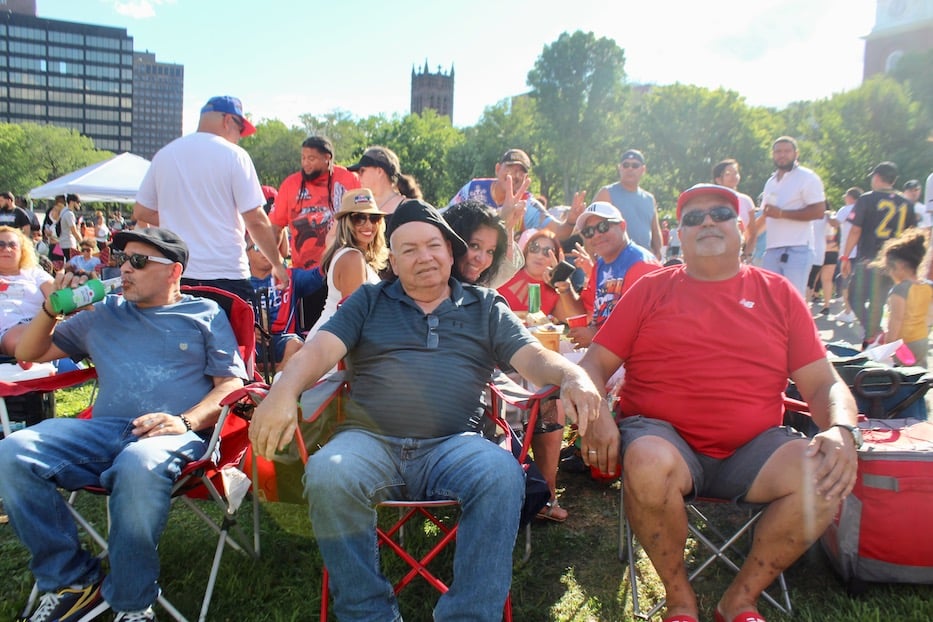 Top: "Yo! Soy! Boricuaaaaaaa!" yelled New Haven Health Director Martiza Bond. Tiana Ocasio, a member of PRU, is to her left. Bottom: José DeJesús (in red). 
"Yo! Soy! Boricuaaaaaaa!" yelled New Haven Health Director Martiza Bond, exploding into a smile. "Pa'que tu lo sepas!" The crowd bellowed back, in a cloud of sound audible all the way to Grove Street. 
As they cheered each of the women on from their lawn chairs, José DeJesús and members of his friends and family started in on another game of dominoes. Born and raised in the city's Hill neighborhood in the 1960s and 70s, DeJesus described himself as "Boricua all day," and eager to talk about his family's roots on both the Island and in New Haven. His family has been part of the city's history since 1942, when his grandfather bought a house in the Hill. 
From his childhood, DeJesús still remembers the Fiestas de Loíza en Connecticut en Honor al Apostol Santiago (FLECHAS) that took place at Kimberly Field, then Long Wharf, then Sports Haven for over three decades. As he got older, he said, he fell in love with the Green as a cultural center, and made an effort to see acts when they rolled through town. In the last 30 years, he's danced to salsa royalty Celia Cruz, listened to Ray Charles grace the Green, and interviewed Panamanian musician and actor Rubén Blades while working as a host and DJ at WPKN. 
At some point, he and his wife, Priscilla Montalvo, bought a cart specifically for events on the New Haven Green. Saturday, they packed it with ice cold beer, food, lawn chairs, and dominoes decorated with a flapping Puerto Rican flag. As they played game after game on a matching table, musicians cycled from Michelle Brava to Moncho Rivera to an homage to Tito Rojas. It looked like they would still be there when the reggaeton artist Yomo closed the night out close to 10 p.m.     
"It feels like I'm in the old country," Montalvo said as she contemplated the row of dominoes in front of her, careful before she made a move.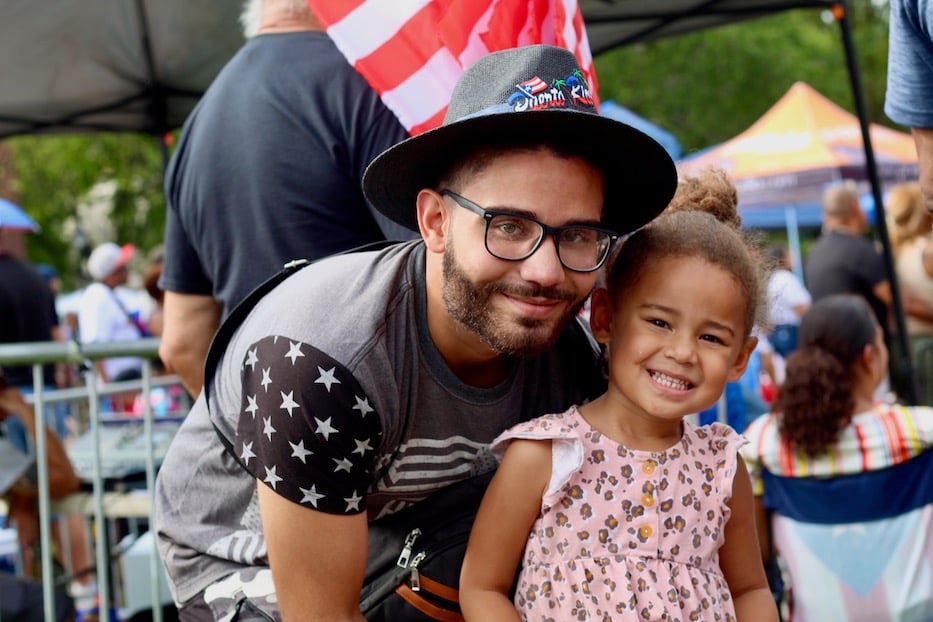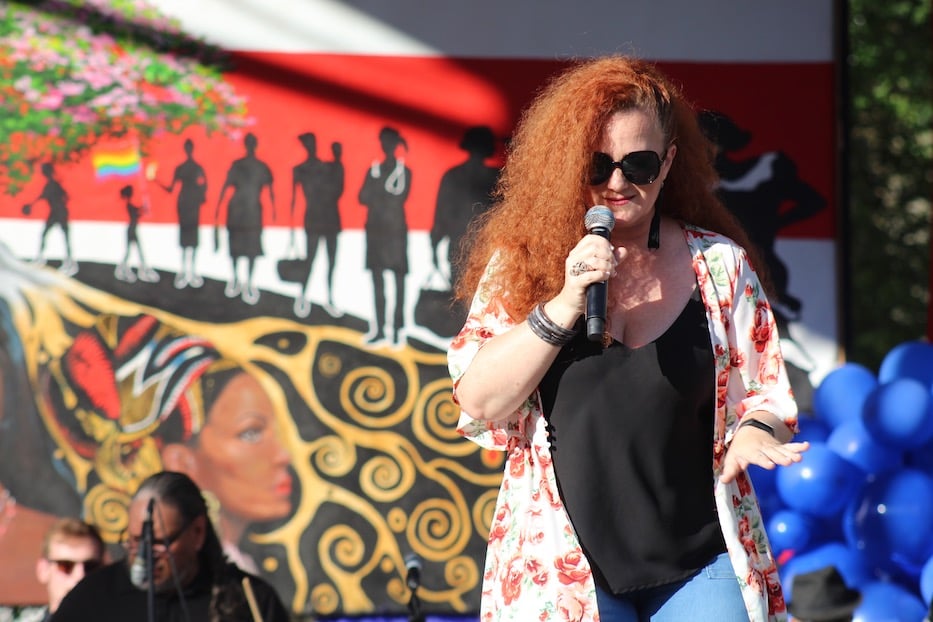 Top: Miguel Villanueva with his two-year-old daughter Amina. Bottom: Michelle Brava. 
Back at the stage, friends Destiny Lugo, Yeraliz Figueroa, Mia Santos and Daleishka Flores (pictured at top) said they were excited to be back on the Green after two years—and all feeling very proud to be Puerto Rican. Flores, who danced bomba onstage at the festival in 2019, could hardly keep her feet still during the interview. As she watched her friend fidget, Figueroa got the message. 
"I'm ready to dance!" she said, laughing. Behind her, another spray of bubbles floated into the air. The air buzzed with movement, dance blooming in every direction.
Midway down the closest walkway, Laureano Clemente arrived from the Bronx, and took a friend by the hand to dance. Toward the center of the Green, friends picked up claves, cowbells, congas and maracas they'd brought with them, and played along with the music. Miguel Villanueva lifted his two-year-old daughter Amina onto his shoulders, and began to teach her about her roots. Across the Green on Church Street, a motorcycle covered in Puerto Rican flags revved its engine, as if in a roar of agreement.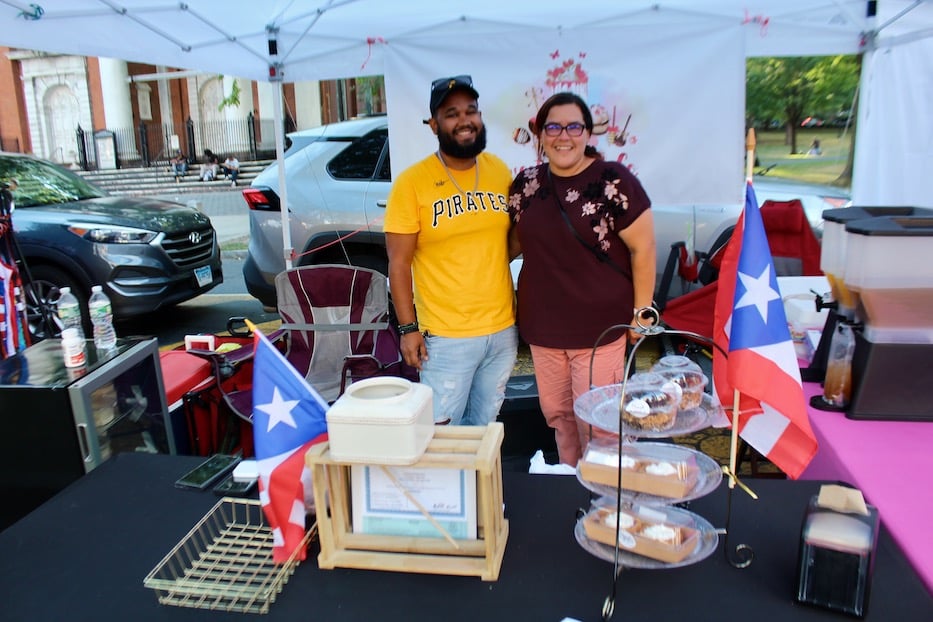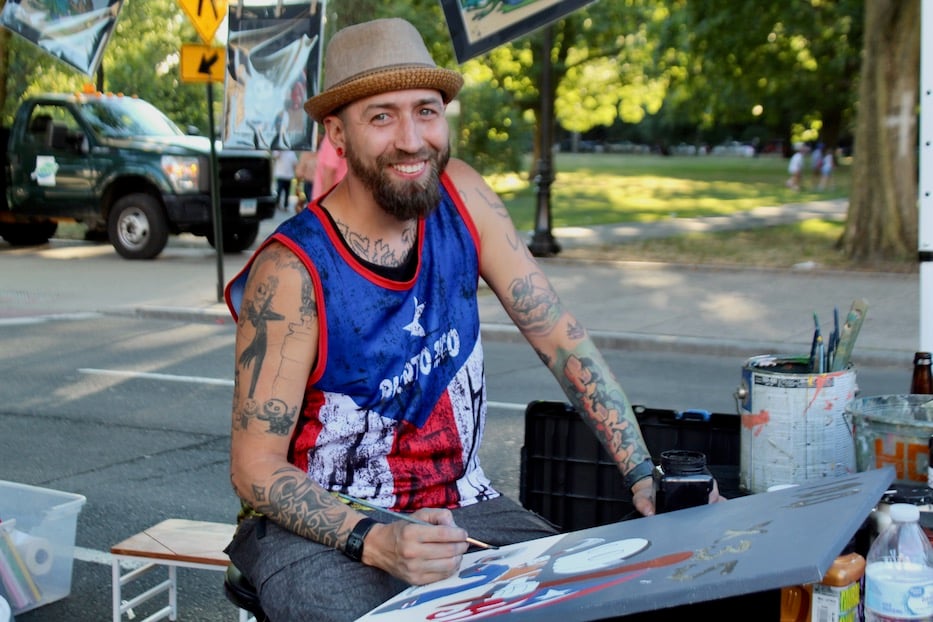 Top: Roman Urbina, who is Dominican, and Janeliz Valentin, who is Puerto Rican. Valentin said that her food business, Sweet Works Co., is "a family passion." Bottom: Artist Carlos Perez, who most people refer to affectionately only by his last name. 
As the music played, attendees cued up at food trucks lining Temple Street, a lullaby of humming generators, orders shouted in English and Spanish, and laughter and glee at the first bite of something that tasted like home.
At a quiet tent beside the line for Fabi's Big Tripletas, Roman Urbina and Janeliz Valentin introduced attendees to Sweet Works Co., a small Collinsville-based food business that is just getting back on its feet as the Covid-19 pandemic enters a new chapter. 
"It's a family passion," Valentin said. Born and raised in Añasco, Puerto Rico, she learned to cook from her grandmother, and fell in love with baking as a kid. When she was nine, she made her first birthday cake for her mother in an electric kettle (not a culinary success, she said with a laugh). As she grew up, she began working for Hilton Hotels, coming to the U.S. when she was 16. 
Valentin always wanted to stay in the culinary arts and hospitality, but took time off as a medical assistant after her son was born several years ago. She had just started Sweet Works Co. when Covid-19 hit in March 2020, shutting everything down overnight. Now, she said, she relies on a mix of events like Saturday's and catering orders to keep the business afloat. While events like the festival take over a day of baking, she said she's glad to be back.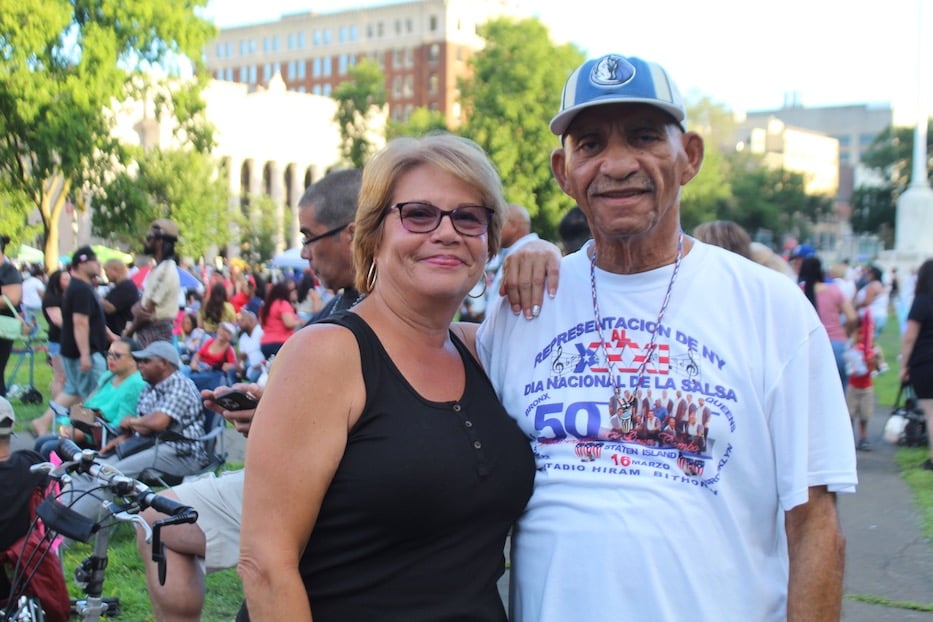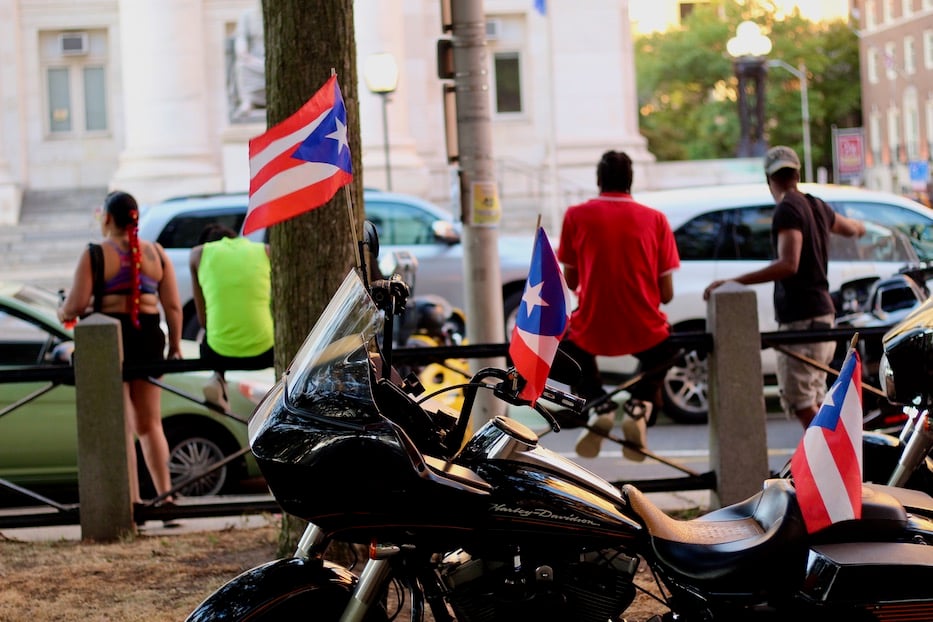 Top: Myrna Colon and Laureano Clemente, who came in from the Bronx. Bottom: Flags all day.
Every so often, an attendee came by for ponqué cake or the combination of guava and queso, only to learn that the items had sold out within the first two hours of the festival. Working together, she and Urbina listed off the items they had left, including small, moist chocolate cakes with sprinkles, and a fridge full of Tres leches cake and arroz con leche. The second seemed right on time for the warm afternoon, not too sweet and kissed with a thick, fragrant layer of cinnamon that covered raisins and plump grains of rice below.   
"She's the brains," Urbina said, beaming. His shirt, a Pittsburgh Pirates tee that honored Roberto Clemente's number 21, glowed butter yellow in the sun.    
Just two tents away, the artist Perez worked on a live drawing, his second stop of the day after painting a mural on Broadway Avenue. As he painted the body of his alter ego—fittingly named Him—he reminisced about the years he spent with his grandmother in Puerto Rico as a kid, which became part of his development as an artist.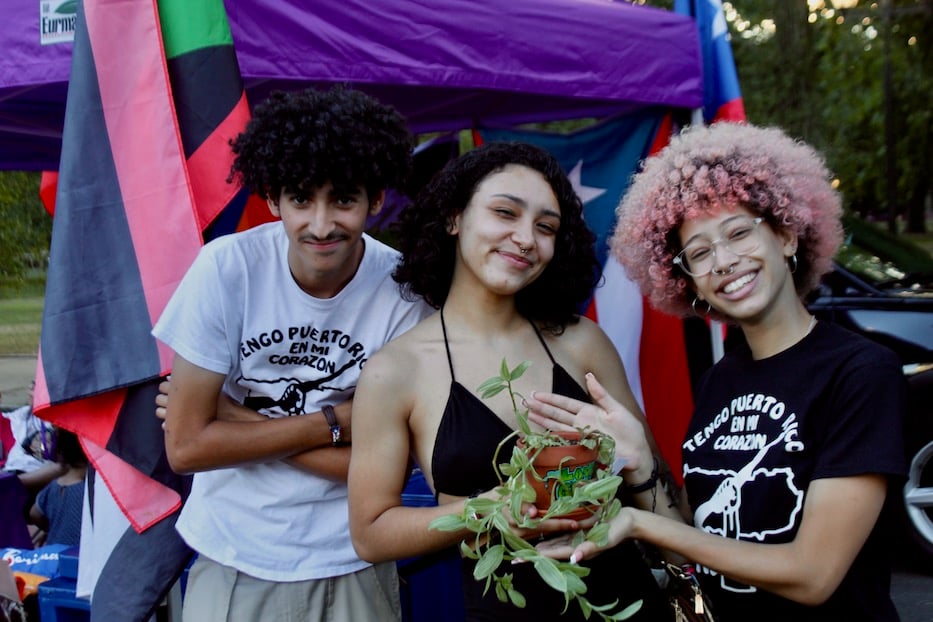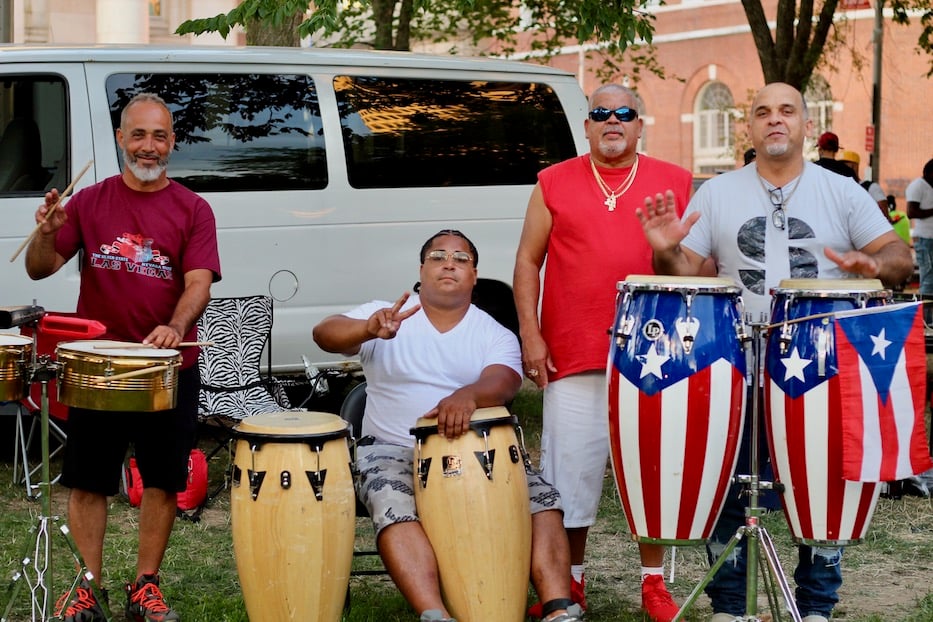 Top: Friends Anthony Toro, Jocelin Romero, and Sasha Cohen Cox. Bottom: Carlos Santiago, Jean Karlo Conquistador, Pedro (he asked that his last name not be used), and Pedro Brown. 
As he filled in a black spot at the corner, James Hillhouse High School student Elizabeth Padilla came over and watched, a Puerto Rican Flag hanging over her shoulders. One tent over, bursts of laughter and conversation occasionally rang out from where the New Era Young Lords were teaching people about their work.
Back on the other side of the Green, it was pushing 6 p.m., and felt like the party was still getting started. In a grassy corner, Jean Karlo Conquistador played the congas with a group of friends in time with the music. Across the grass, Clemente took Myrna Colon by the hand, and kept dancing. Jose Figueroa stood for the dozenth time, and did a salsa step with his maracas. The night was young.
Learn more about Puerto Ricans United, Inc. and the festival here. Watch more from the Festival in the videos above.